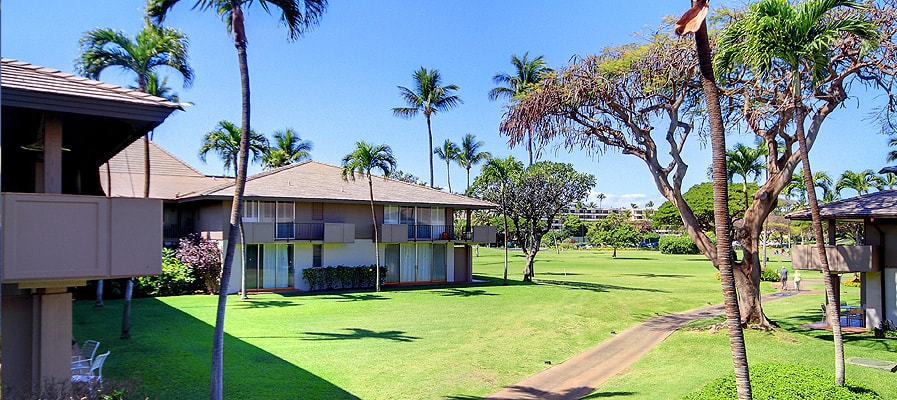 Maui Eldorado Condos for Sale
Located on the North Fairways of the renowned Royal Kaanapali Golf Course, Maui Eldorado is a private yet inviting West Maui condo property managed by Outrigger Hotels & Resorts. With an incredible location just behind the famous snorkeling spot 'Black Rock' in Kaanapali, you'll find this oasis tucked away on rolling greens. Low-rise condominium buildings are spread out with plentiful property features for all. Maui Eldorado is off of the beach, but it provides complimentary rides in golf carts to and from the very exclusive Maui Eldorado beachfront cabana. This community's peaceful setting is incredibly relaxing after a long day. It is no wonder people are proud to call it home! Become an owner at Maui Eldorado and take advantage of all this West Maui property has to offer.
View : Maui Eldorado for Sale
Golf Course Fairway Property
Spacious studio, one bedroom, and two bedroom condos range in size from 660 sq. ft. to 1,700 sq. ft. Each condo apartment for sale features a full kitchen for you to create home cooked meals. A private lanai is an added bonus at this incredible property. You will enjoy remarkable sunsets over the golf course fairway as you relax on your private lanai. You will be surrounded by the views of the magnificent West Maui Mountains, as well as the expansive grounds made up of gently sloping greens.
Maui Eldorado Real Estate
The 204 condo units range in size:
Studio, 1 bath, 660 – 800 sq. ft.
1 bedroom, 1 bath, 1,200 sq. ft.
1 bedroom, 2 bath, 1,200 sq. ft.
2 bedroom, 2 bath, 1,700 sq. ft.
Golf Course Location & Amenities
Maui Eldorado's location in the heart of Kaanapali is great for shopping, dining, and fun ocean activities. There is always something to do in Kaanapali! Take a stroll on the Kaanapali Beach Walk and you will be met by luxury shopping, mouthwatering restaurants, and plentiful activities. Walkways will help you navigate the property from your condo to Kaanapali Beach, one of the most beautiful beaches in the world. It is just minutes away by a short walk or a convenient golf cart ride. At Black Rock, you will be able to swim with some of Hawaii's most unique marine life.
The private oceanfront cabana will be your home base at the beach. Utilize the kitchen at the cabana and the lounges to soak up the sun. When you are ready to retire to the property, there are three refreshing pools for you to enjoy after a day at the beach. Other condo owners enjoy onsite features including a barbecue area, as well as shuffleboard to play with friends and family. For golfers, the world class Kaanapali Golf Course is right at your fingertips!
Property Investment
Terrific location, well maintained property grounds, and large comfortable condos make Maui Eldorado a top Kaanapali property. Do not miss your opportunity to become a homeowner at this peaceful Kaanapali condominium managed by Outrigger Hotels & Resorts. With a golden sandy beach minutes away and the exclusive amenities the Kaanapali area offers, you will surely be impressed with your new home at the Maui Eldorado. Take a look at the Maui Eldorado real estate listings available for sale and contact us today to start looking for your new Hawaiian home!