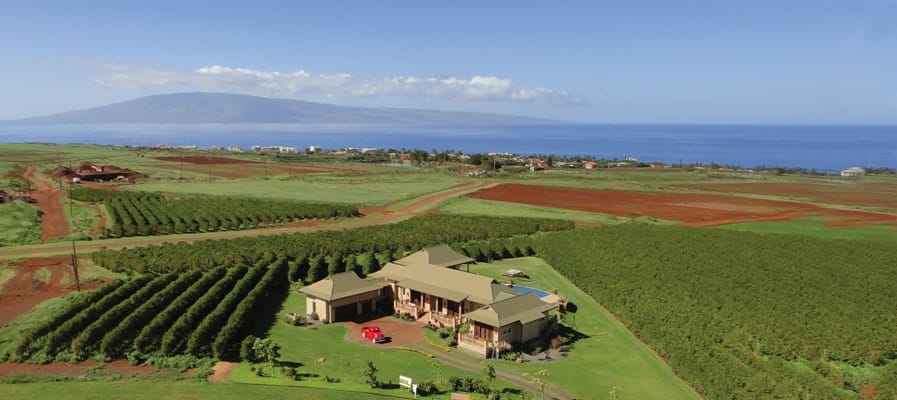 Kaanapali Coffee Farms Homes and Land For Sale
Imagine yourself waking up and enjoying a cup of coffee staring out at rolling acres of coffee. This is life at your new home in Kaanapali Coffee Farms. Kaanapali Coffee Farms occupies a part of what once was a sugar plantation run by the Pioneer Mill Company. This agricultural community on the slopes of the West Maui Mountains is a limited ownership opportunity in Kaanapali. Contemporary island living intersects with West Maui's rich farming history culminating in a truly unique residential experience and real estate opportunity.
View : Kaanapali Coffee Farm Homes
View : Kaanapali Coffee Farm Land
Kaanapali Coffee Farms Location
Kaanapali Coffee Farms is made up of 336 acres of agricultural land which were subdivided into 58 separate farms ranging in size from four to seven acres. The farms' location above the famous Kaanapali Resort area houses some of the most desired real estate in all of Maui. Coffee trees will surround your property shrouding it in spectacular privacy. The views from the sloped West Maui Mountains are sweeping views of the Pacific Ocean and neighboring islands Molokai and Lanai. Living at Kaanapali Coffee Farms, it is easy to feel immersed in nature while you enjoy truly perfect indoor/outdoor living.
Discover Quality of Life
If you are wondering about how to run a coffee farm, do not worry about it. One of the best parts about the Kaanapali Coffee Farms is that, as a resident, you will not have to lift a finger! The planting, maintaining, and harvesting of the coffee crop are taken care of for you, with minimal effect on your new home life. The idea of this subdivision is the continued use of this land for genuine agriculture. Your property will be a "Farm Dwelling Site" of one-acre, on which you may construct a main house, cottage, and also a workshop or studio. The community's design guidelines are in effect to enhance the agricultural beauty surrounding you.
Kaanapali Real Estate
Kaanapali is one of the most sought after real estate areas in Hawaii. The lush green shadow of the West Maui Mountains juxtaposed with the gorgeous stretch of sandy beach is an unbeatable combination. Living in the Kaanapali area affords residents with many opportunities. World renowned beaches, endless activities, and luxury shopping are abundant. Five-star dining is also ever present in Kaanapali with some of the best restaurants on Maui including Roy's and the restaurants at Whaler's village, especially the Hula Grill. Kaanapali is nestled between the Lahaina and Kapalua. In the adorable historic Lahaina town, it is always fun to walk and shop Front Street and the elegant Kapalua area provides even more to do. That's all part of what makes buying land and building your own home at the Kaanapali Coffee Estates a real Maui dream.
Live on Your Own Coffee Farm in Maui
The Kaanapali Coffee Estates community is a great example of "Malama Aina" in the sense that the continuation of agriculture on this land will keep the land green and growing. By creating this residential farm community, The Kaanapali Coffee Estates is able to see this goal achieved. This is a wonderful opportunity to live on the land and support the land. Your farm dwelling on Kaanapali Coffee Estates will provide you and your family with an exceptional life that you are sure to love. You will appreciate being surrounded by beautiful green plants and your life will grow with them. Start looking for your own coffee farm today! View our property listings to start an easy life in Kaanapali Coffee Farms.