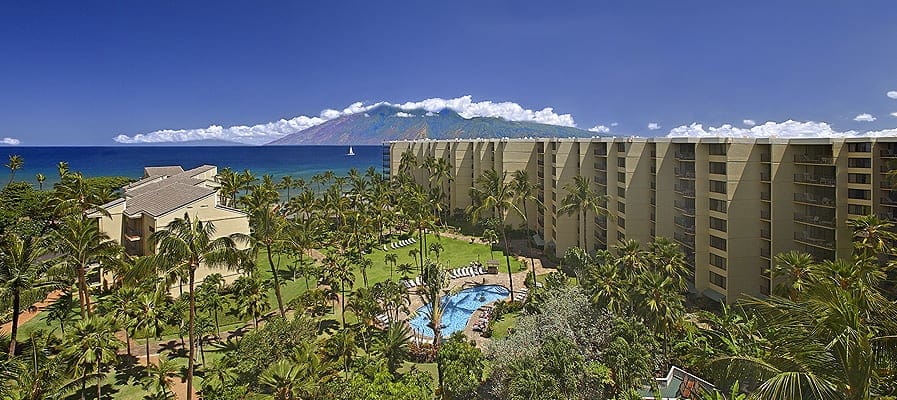 Site Plan – Floor Plan – Maintenance Fees
When considering Condominium ownership, consider the Best!
Aston Kaanapali Shores Resort
Our Kaanapali Shores Condominium Experts
Kaanapali Shores Condos For Sale
Incredible luxury and relaxing island living are embodied at the beachfront Aston Kaanapali Shores Resort. Kaanapali Shores is situated just north of the renowned Kaanapali Beach overlooking beautiful white sands and the bright blue Pacific – just steps from your future Kaanapali condominium! Beautiful landscaping and thoughtful property arrangement create a relaxing atmosphere. The property is managed by Aston and is a popular and approved vacation rental. Therefore, as an owner, you can rent your unit out for part of the year and generate extra income.
Beachfront Property
Nestled on 10 acres of seamlessly manicured grounds, Kaanapali Shores features studios, and roomy one and two bedroom condominium suites tastefully decorated to impress with their laid back island vibe. Built in 1980, current zoning doesn't allow for a building like this to be built so close to the beach. The suites range in size from 600 – 2,005 square feet and you'll find many of the Kaanapali Shores condos for sale offer sweeping views of the lush green tropical gardens and the sparkling Pacific Ocean. Well-equipped resort condos feature full kitchens which make outdoor dining and entertaining a reality on the private lanais. Imagine yourself watching the sun slowly set in the beautiful Hawaiian sky and pass below the horizon of the blue Pacific, welcoming an incredible starry night.
Kaanapali Shores Real Estate
When viewing the current condos for sale, keep in mind that you'll not only be seeing Fee Simple, but Leasehold listings as well – which are typically easy to spot by the pricing.
Each of the 463 Units:
Apartment E : Studio, 600 sq. ft.
Apartment D : 1 bedroom, 1 bath, 840 sq. ft.
Apartment C : 1 bedroom, 1 bath, 907 sq. ft.
Apartment A : 2 bedroom, 2 bath, 1,108 sq. ft.
Apartment B : 2 bedroom, 2 bath, 1,099 sq. ft.
Apartment F : 2 bedroom, 2 bath, w/loft 1,215 sq. ft.
Apartment G : 2 bedroom, 2 bath, 2,005 sq. ft.
Oceanfront Location & Amenities
Kaanapali Shores also has everything you need to stay active. Just a short walk from your island suite is Kaanapali Beach. Fitness features include: pickleball court, shuffleboard, tennis courts, fitness center, and swimming pools. On site facilities include a convenience store, outdoor barbecue grills, and a restaurant, will cater to your needs. When you aren't practicing your stroke in the sparkling pools or on the lighted tennis courts, put relaxation above all else on a pool lounge or watching the sunset on Kaanapali Beach. Lay back and make Kaanapali Shores your Hawaiian getaway!
Property Investment
If you are looking for incredible value on Maui's West Side, choose the Aston Kaanapali Shores Resort. World class location on one of Maui's best beaches, beautifully appointed condos, and resort-quality amenities make investment an amazing opportunity. Take a look at our current Kaanapali Shores real estate listings. Contact us and let us help you look through Kaanapali Shores for sale and choose your new Hawaiian home today!