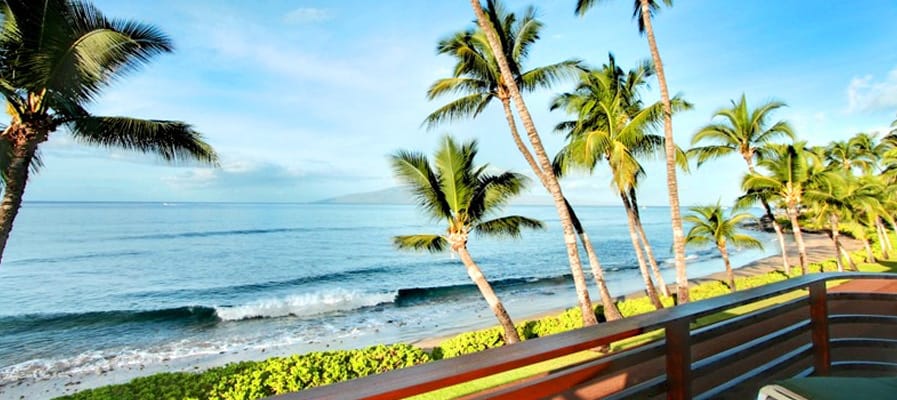 Puamana for Sale
On Maui, there is no other place quite like Puamana Resort. Puamana is a quiet gated community located in historic Lahaina Town on the beginning of famous Front Street. This beautiful oceanfront colony is spread out on 30 acres of the best tropical landscape on Maui. Lush gardens and perfectly manicured lawns will surround you as you listen to the sound of the breaking waves from the majestic Pacific Ocean directly in front of the resort. Puamana provides privacy, while still being in a convenient location. Live privately at this lovely community that is just minutes from the heart of Lahaina Town.
Oceanfront Resort Property
The site plan of Puamana can be described as low density and sprawling. Concrete walls separate each townhouse condo unit creating more privacy for you and your party. You can choose to remodel or completely rebuild a property from the bottom up. Townhome condo units for sale can range in size from one to three bedrooms. The square footage ranges from 866 sq. ft. to 1,594 sq. ft.. Each unit is a traditional beach bungalow style. You will love living in this beautiful neighborhood. Spectacular views of neighboring islands Molokai and Lanai can also be enjoyed.
Puamana Real Estate
The 230 units vary in size:
1 bedroom, 1 story, 866 sq. ft.
2 bedroom, 2 story, 1,218 sq. ft.
3 bedroom, 1 story, 1,471 sq. ft.
3 bedroom, 1 story, 1,594 sq. ft.
Oceanfront Location & Amenities
Puamana is made up of a staggering 30 acres. This extensive property is meticulously taken care of. The amenities and property features are out of this world. The streets around Puamana are lined with fruit trees that compliment the grounds. If you are looking to work on your stroke or get in a fun work out, tennis, badminton, and bocce ball courts are at your disposal. Work up a sweat on the courts and then go for a refreshing dip in any of the three swimming pools on site. This includes an incredible oceanfront pool right on the Pacific Ocean. The pool design creates the illusion that there is no boundary between the ocean and the pool. When the surf is high, seawater and often, small sea life will wash into the pool area. Just like Puamana, this pool is unique and there is nothing on Maui quite like it. The property is centered around a beautiful clubhouse that includes a lanai where sunset-watching is a popular activity, as well as a library upstairs for unwinding. There is a playground, as well as acres and acres of green space to make use of. Puamana truly has it all.
Maui Real Estate Property Investment
Luxury and Puamana are synonymous. It is immaculately thought out and the property features are each more impressive than the last. You can go from the beach to the surf in minutes! The Puamana condos make it easy. It is time to start enjoying a wonderful Maui lifestyle. Not to mention these Hawaii townhomes make a great vacation rental property investment.
With the Pacific Ocean at your disposal, you will play like a kid in the waves! Body surf, snorkel, and boogie board whenever you want. When you tire of ocean play for the day, walk only a few minutes and jump right into a game of Tennis with friends and family, then end the day watching the sunset in front of the resort! Puamana Resort living is everything you have ever dreamed of in a home and more. Make Puamana Maui your new home and live privately in Hawaiian paradise. Check out our current Puamana real estate listings today.