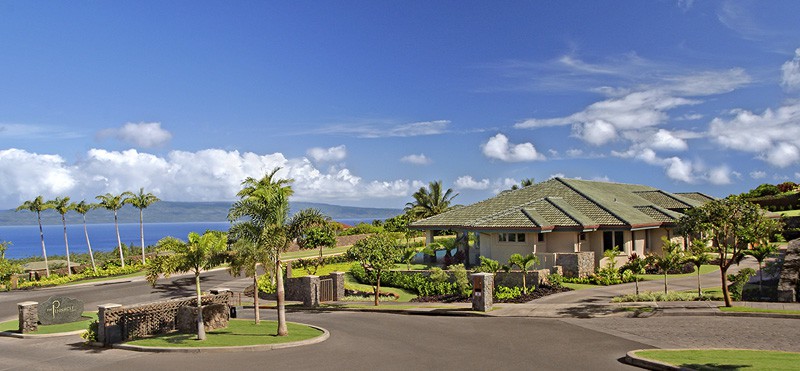 You may have heard the buzz by now: The Pinnacle Kaanapali is the hottest property in West Maui. Astounding panoramic views that sweep from historic Lahaina town to the neighboring islands of Lanai and Molokai, easy access to the sunny beaches, five-star hotels, lush golf courses and wonderous amenities of world-renowned Kaanapali Resort, The Pinnacle offers the way of life you've been dreaming of. Atop the lush hillside known as the Kaanapali Golf Estates, The Pinnacle's 33 estate-sized custom home sites are the essence of a luxury Maui lifestyle and the finest residential living in the Pacific. The relative rarity of lots of this size and luxury in Kaanapali, where buyers can build their own custom homes, has fueled the buzz. Savvy buyers are keeping a sharp eye on the market, which indicates a gathering upward momentum in both sales volume and price in Kaanapali. Many see now as the time to make your Maui dream come true.
Experience The Pinnacle
Ten parcels are adjacent to the Kaanapali Resort South Course, directly overlooking the challenging Eighth Hole. Others are situated with a rare "wide to the view" layout, with the longest side of the parcel facing the stunning Kaanapali vistas. A gently sloping topography, meticulous property siting and maximum peak of roof elevations preserve views for each homeowner. All homesites are generously sized (18,500 to 28,000 sq. ft.) to accommodate a grand home with swimming pool and a wide setback to ensure privacy and serenity.
Come home to an elegant Maui community
Beautifully designed common areas provide privacy and a setting of contemporary Hawaiian elegance. Utilities are underground, allowing unmarred views of Kaanapali and the ocean beyond. Cast metal fencing atop natural stone walls is punctuated by palms and low hedges for a lush yet understated look. Sophisticated sliding entry gates and an internal security system offer round-the-clock peace of mind. Winding throughout The Pinnacle's 19 acres, stamped concrete is inlaid in calm landscaped boulevards, creating a pleasing venue for both vehicles and pedestrians.
Build your dream
Esteemed Maui architect Tim Farrington, AIA, has a quality 25-year track record building luxury residential homes on the island. As a member of The Pinnacle Kaanapali's development team, he was largely responsible for the land concept and sensitive siting of each homesite. His goal: to optimize each site's view while providing maximum architectural flexibility.
Mr. Farrington and his partner, Greg Bayless of Farrington Bayless Architects, are available to meet with you individually to help you visualize a custom home that will make best use of this prestigious location. Whether meeting in person on an actual site tour or communicating long distance, this complimentary service is an invaluable tool for future owners.
Discover quality of life
With the beautiful Kaanapali Resort at your doorstep, fill your days with golf, tennis, hiking or water sports. Soak up golden Maui sunshine on sparkling white-sand beaches. Join in Maui's favorite wintertime spectator sport, whale-watching. Shop in world-class boutiques. Dine on sumptuous cuisine prepared by internationally renowned chefs.
At The Pinnacle, Kaanapali is your playground.
Blessing of the Pinnacle Site
The Pinnacle's Kai nehe is Blessed and Good to Go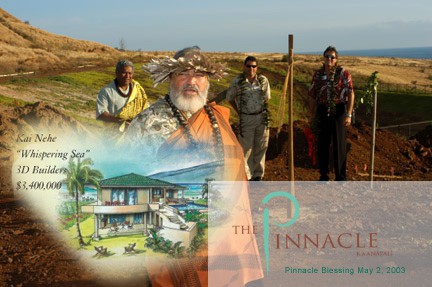 KAANAPALI, MAUI, HAWAII –(May 14, 2003) –It was another perfect Kaanapali sunset on May 2, as an illustrious group of individuals gathered to bless The Pinnacle Kaanapali's newest addition … the Kai nehe. The Kai nehe is a 4800 sq. ft. home scheduled for completion in 2004 and offered exclusively by Whalers Realty Inc., the host of this culturally-rich event.
Observing Hawaiian tradition, esteemed Kahuna, Clifford Naeole and Sam Ka'ai, presided over the evening and requested that the guests assist in "asking permission to change the energy of the land." Using the traditional ti leaf which was weathered and worn but chosen for its wisdom, salt used for cleansing, and the water representing purification, Ka'ai walked the perimeter of the home site invoking the ancient chant.
Robert J. (Bob) Cartwright, Whalers Realty's Principal Broker, acknowledged the many hands responsible for making the event come off without a hitch including The Pinnacle's Project Manager, Rick Martin, and his Support Staff members, Tori LaPolla and Lisa Montarti. "The developers and I feel it's very important to show our kokua … Therefore, we'd like to thank all of those who worked so hard on this evening," Mr. Cartwright said. "I am also grateful to Clifford and Sam for bringing us all together in spirit." Mr. Cartwright also acknowledged Elite Mortgage, Title Guaranty Escrow Services, Homes & Land Magazine, and Christian Jurgenson of CJ's Deli for contributing the libations for the evening.
Dan Goodfellow of 3-D Builders spoke about the future of the new home: "To whoever may become the ultimate owners of this wonderful new home whether it's several families or just one family for generations to come­, we wish them much happiness here … a lot of heart and soul has gone into planning this home."