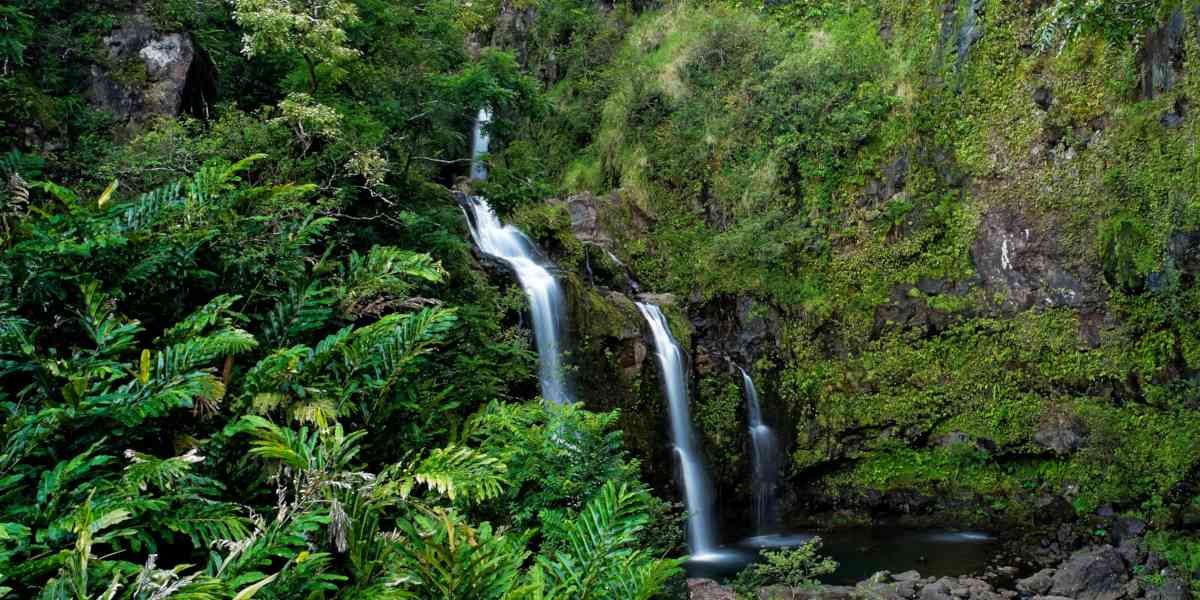 View East Maui Real Estate Property Listings
Hana
If your idea of the perfect island retreat is a romp through lush tropical rain forest, then the sleepy area of Hana is the place to be. Located on the East end of the island, Hana is known for its beautiful tropical vegetation, secluded atmosphere, and simple old style Hawaiian living. However, it is not just Hana which is a treat for the senses; the journey to Hana itself is half the experience.
Now before you begin your journey to the far side of the island, be aware that the drive to and from Hana is far from a short jaunt. Barring any traffic tie ups, expect to budget about 3 hours of driving time into, and out of Hana, from the airport in Central Maui. If you're departing from your condo in Kaanapali or home in Kapalua, add an extra hour to each leg of the trip. A journey indeed, but one which is fully worth the trip. Another tip: to fully enjoy the experience on a sunny day, open air motoring is a must! With that said, let's begin our trip:
Regardless of whether your journey begins from West, South, Upcountry, or Central Maui, the rallying point for your drive into Hana begins in the North Maui town of Paia. If you haven't already been to Paia Town, fire up Google Maps and start driving until you reach the center of Paia town. Once there, stop off for a bite to eat, fill up your gas tank, and fill your trunk with snacks for the ride. Now head out down Hana Hwy. towards Hookipa and . . . just keep going! Pass the entrance to Haiku, pass through Huelo, and finally you will be right at the doorstep of East Maui.
At this point you will have a small taste of what the drive through East Maui entails: Careful going along twisty switchback roads. With luscious tropical forest (complete with the occasional waterfall) to your right, and the magnificent deeply hued Pacific Ocean to the left, this drive is paradise for both drivers who love to drive and passengers who love to sit back and sightsee! As you make your way down the road, you will find many places to pull over and take pictures, or simply take in the clean air and serene beauty which surrounds you at every turn. However, for a truly special experience, search out the following spots on your drive:
Puohokamoa Falls
Right around mile marker 11 you will find a small stopping area on the side of the road. Pull over and follow the adjacent path to find the Lower Puohokamoa Falls: an amazing 130ft waterfall with small pools great for a quick dip!
Waianapanapa Park
Further down the road, at mile marker 32, lies Waianapanapa Park. Stop by to take a stroll along a beautiful stretch of black sand beach, or hike along the shore side trails to a secluded sea cave. Tip: Admire the water from the shore only, as tidal conditions here can be quite dangerous.
Hana
A quaint town considered to be one of the most secluded and most authentically Hawaiian experiences to be found on any island in Hawaii. While exploring this wonderfully small community, check out the Hana Cultural Center and Museum for a tour of old Hawaii, the Wananalua Congregational Church which is a designated National Historic Site, and Hana's most cherished outpost for gas, food, and everything in-between; the Hasagawa General Store!
Oheo Gulch / Seven Sacred Pools
Down the road at mile marker 42 lies an extra special cut out of land which serves to create numerous pools and waterfalls, including the world famous Pools of Oheo (aka Seven Sacred Pools.) For the best experience, skip the lower pools and take the four mile long Pipiwai Trail up to the top of the gulch, upper waterfalls, and less crowded pools.
Think you may need more than just a day to enjoy East Maui? Then book an overnight stay at the Travaasa Hana or contact the Maui Luxury Real Estate Team to discuss your long term Hana housing options.
Other Maui Real Estate Areas