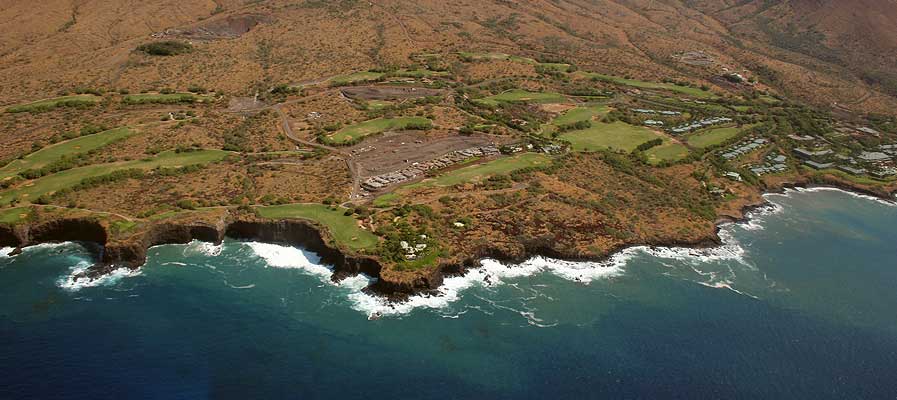 View Lanai Real Estate Property Listings
"The Most Enticing Island in All Hawaii" – A nickname which the island of Lanai has earned by those wanting a bit of the quiet life. Lanai certainly lives up to the moniker for anyone seeking a serene living experience while remaining just minutes away (by air or sea) from civilization. Located a few miles off of the Kaanapali coast, Lanai is the least developed, inhabited, and publically accessible island in the Hawaiian chain.
Upon arriving on Lanai, two things become quickly apparent:
1. If you're looking for a relaxing resort experience, Lanai is the place to be with not one, but two Four Seasons resorts within minutes of each other.
2. When not relaxing at the resort or in your Lanai home, a vehicle with all wheel drive is a must for exploring the island.
If championship golfing, exquisite fine dining, and an overall unparalleled resort experience in one of the most secluded locations on earth is what you're looking for, then a stay at the Four Seasons resorts on Lanai is a must. With beachside rooms available at the beautiful Four Seasons at Manele Bay, and an amazing country experience featured at The Lodge at Koele, Lanai offers amazing resort experiences for those seeking only the best in island accommodations. As wonderful as the resorts on Lanai are however, the real adventure begins as you discover the island's numerous outdoor offerings. Here are a few recommendations:
Lanai City
The islands' central hub, Lanai City is a great little town found "up the mountain" at about 1,700 feet above sea level. A great place to go shopping for local goods or to grab a quick bite to eat, if you're looking for a bit of local flavor before exploring the Lanai landscape, you'll want to make it a point to take some time out to discover everything Lanai City has to offer.
Shipwreck Beach
Kaiolohia, more commonly referred to as Shipwreck Beach, is a beautiful, albeit windy, eight mile stretch of beach located 30 minutes from the heart of Lanai City. A great place to enjoy Lanai from the shoreline (due to adverse conditions, swimming here is not recommended) at Shipwreck Beach you will find a number of interesting sights: Molokai and Maui in the distance, the petroglyphs of Kukui Point and, of perhaps the most interest; an actual wrecked ship! That's right, as you enter Shipwreck Beach you will find a true to life oil tanker from the 1940's, still attached to the reef upon which it ran aground so many moons ago. A unique sight not to be found elsewhere in Hawaii for sure!
Hulopoe Bay
Pristine white sands fronting crystal blue waters: what many would classify as the "perfect" beach experience, and one which you will find upon arriving at Hulopoe Bay. Perfect for swimming, snorkeling. or just lounging atop the pristine white sand, Hulopoe Bay also features a fantastic beach park for the perfect picnic, as well as a unique feature in the form of large tide pools. Located at the eastern end of the Bay, these tide pools are enclosed by large swaths of ancient volcanic rock. Yet another "must visit" location when on Lanai.
Garden of the Gods
About seven mile from Lanai City lies the amazing "rock garden" of Keahiakawelo, more commonly referred to as the Garden of the Gods. Looking more like an area from Mars than a piece of Hawaii, the Garden of the Gods is an intriguing area of rock formations placed upon a floor of rich red dirt. Many legends exist purporting to explain the origins of this amazing garden; one story tells of a massive fire once engulfing the area and another tells of rocks raining down to Keahiakawelo as the gods carefully placed each rock in formation as artistic expression. Regardless of their origins, one thing is clear: the Garden of the Gods is an amazing place to experience while exploring the island of Lanai.
Experience Lanai while on vacation or from your very own Lanai home — call a Maui Luxury Real Estate Team Agent today!
Other Maui Real Estate Areas