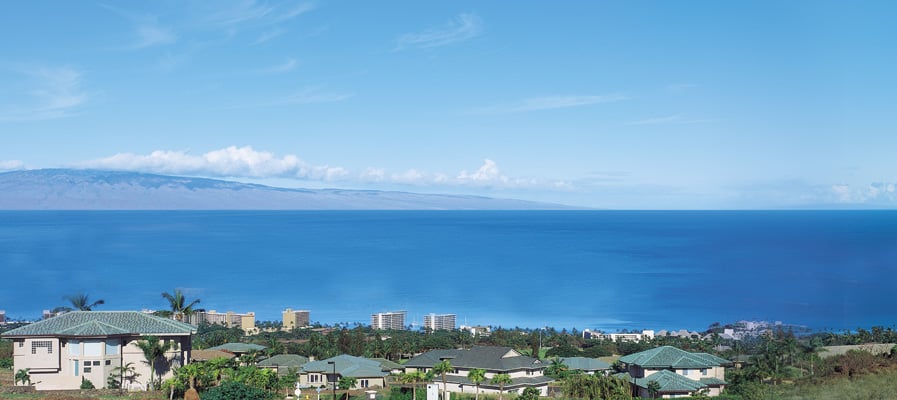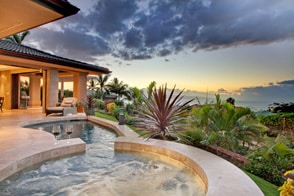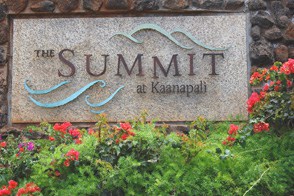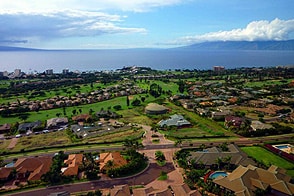 The Summit Homes For Sale
The Summit community is a standout within the Kaanapali Golf Estates. The Summit is comprised of seventeen one and two story stand alone home condominiums. The views from The Summit are dramatic over the Kaanapali Resort to the Pacific Ocean and neighboring islands. As the name might suggest, The Summit has the highest elevation of any condo development in the Kaanapali area which makes these spectacular views possible. Unlike some condo communities, The Summit homeowners enjoy spacious designated yard area and the option of a private pool. Although The Summit is a community, each condo has privacy and seclusion from one another. This private gated community is nestled within the Kaanapali Golf Estates, which are known to be the finest residential subdivisions in Kaanapali.
Luxury Real Estate
You can either buy a home at The Summit or you can purchase a parcel and customize it! Build your dream home in paradise at The Summit in Kaanapali. The theme of the community is upscale luxury island living which permeates throughout the architecture. There are four different models, each with three different architectural styles promoting condo diversity. The three styles are Territorial, Polynesian, and Plantation. The Territorial style is identified through design which is Hawaiian-Mediterranean and calls to familiar architecture like Honolulu's Academy of Arts. The Polynesian style is a blend of whimsical architectural elements complemented by wood and earth tones. The Plantation style is inspired by the homes that were built during the boom of Hawaii's sugar cane industry. With so much flexibility in building, The Summit certainly rises to the top. Each of The Summit condos, within guidelines, can be tailored to fit your needs! Flooring, cabinet style, gas option for range, wine storage, and more can all be customized for you.
Kaanapali Golf Estates Location
The deluxe Kaanapali Golf Estates are home to some of the most incredible real estate in all of Maui. With perfect weather, amazing sunsets, and great beaches, it is no wonder that Kaanapali was the site of Hawaii's first planned resort! From your Maui house at The Summit, you are only a short golf cart ride away from the Kaanapali Resort area which gives you access to world-class dining and superior shopping opportunities at Whaler's Village. Life is better in Kaanapali!
Discover Quality of Life
Living in The Summit community is ideal island living. The pulse of West Maui is at your fingertips with restaurants and shopping, activities and legendary Kaanapali Beach. Start the easy life on Maui at The Summit in Kaanapali. You can build your dream home or buy it today at The Summit.
---
True to its name, The Summit at Kaanapali is a unique collection of 17 one and two-story detached-home condominiums, located on a prime 17-acre parcel near the summit of Kaanapali Golf Estates on the slopes of the West Maui mountains. Along with all the benefits of condominium living, owners will enjoy a true sense of seclusion and privacy through careful landscaping and elegantly constructed homes.
With an elevation higher than any other condominium development in Kaanapali, views from each home will be spectacular: a sublime combination of expansive sky, deep blue ocean and the neighboring islands of Molokai and Lanai.
---
A distinct private home environment with defined area for yard, private pool/spa options, enhancing seclusion. Upscale, elegant island-style living is the unifying theme. Four different models bearing one of three distinct architectural styles will provide an eclectic, sophisticated community setting.
Territorial: This stately design is reminiscent of the grand structures-such as Honolulu's Academy of Arts or the renowned Halekulani hotel-built during Hawaii's Territorial Period. It features a combined Hawaiian-Mediterranean look with an assured, symmetrical profile and formal landscaping. Neutral tones, plastered walls, soffits, tropical hardwood and stone flooring are just a few of the interior design elements. Enhancing the exterior, hardwood accents and coral finishes lend a dignified island elegance.
Polynesian: A meld of Hawaiian and Micronesian, this style blends casual, rustic touches with a sense of the exotic. Whimsical architecture elements and organic natural forms done in the rich earth tones create an alluring tropical hideaway. Asian wood and stone flooring are complimented by ohia and pau lope hardwoods, while natural-textured finishes give an air of romance. Landscaping is lush and tropical, with curved lines throughout.
Plantation: The graceful homes of Oahu's verdant Manoa Valley are the inspiration for this style. With a traditional profile based on symmetry and finished in painted wood, this home will integrate with the land. Lap siding and exposed rafter tails complete the look, recalling the simple elegance of plantation days.
Original Condominium Prices: $989,000 – $1,500,000
Architect: Design Partners, Inc.
Civil Engineer: Austin, Tsutsumi & Associates, Inc
Electrical Engineer: ECM, Inc.
Planning: Munekiyo, Arakawa & Hiraga, Inc.
Landscaping Architect: Russel Y. Gushi, ASLA
Managing Agent: Hawaiiana Management Company, Ltd.
Developer: West Maui Development Company, LLC
Development Management: Landtec, Inc
Marketing: Carol Clark Communications
Public Relations: Carol Clark Communications
Sales Agent: Whalers Realty Inc.
Amenities
European-style standard appliances including refrigerator, cooktop, electric oven, hood, built-in microwave, and dishwasher.
Laundry room with washer and dryer.
Walk-in closets in each bedroom suite.
Spacious bathrooms offer walk-in showers and whirlpool spas in master suite.
Office/Guest Suite
Luxury details such as 9′ ceilings are standard throughout.
2.5-car enclosed garages. Size/Unit Mix: 3-bedroom/2-1/2-bathroom, 3-bedroom/3-bathroom, and 3-bedroom/3-1/2-bathroom homes with a total net interior living space ranging from 2,116-2,746 sq. ft.
Options
The Summit offers 4 floor plans. Owners can apply their finish allowance toward the following options to complete and personalize their home:
Choice of flooring.
European style cabinets with choice of style and color.
Gas option for range.
Built-in wine storage cabinet with matching cabinetry.
Built-in outdoor entertainment center with bar sink, barbecue grill and refrigerator.
Outdoor Spa.
Combination pool/spa.
Built-in closet organizational systems with cedar lined drawers.
Audio/video/security system upgrade packages.
Central vacuum system.
Structured wiring system.
Central service center for fiber optic, CAT-5 and co-axial cable bundles.
Extra storage/workbench area in garage.
Water softener and purifier system
Automatic sun shades
Elevator (C Models only)
Dumbwaiter (C Models only)
Specifications
Foundation: 4 1/2″ Reinforced concrete slab on grade.
Wall Framing: Wood studs, 9′ – 0″ plate height.
Floor Framing: TJI Truss Joist.
Roof Framing: Prefabricated wood trusses and loose rafters. Volume ceilings.
Siding: EFS (stucco-style finish). Vertical T&G siding with grooves 8″ o.c. Horizontal lap siding.
Insulation: Fiberglass batt insulation. R-11 at exterior walls, R-19 at roofs.
Roof: Decorative concrete roof tile (slate, mission & homestead patterns).
Doors: Decorative wood entry doors.
Raised panel metal garage door.
Raised panel solid core interior doors.
Frameless mirrored wardrobe doors.
Dual glazed sliding glass lanai doors.
Windows: Dual glazed windows.
Countertops: Granite countertops throughout kitchen & baths.
Air Conditioning: Central air conditioning.