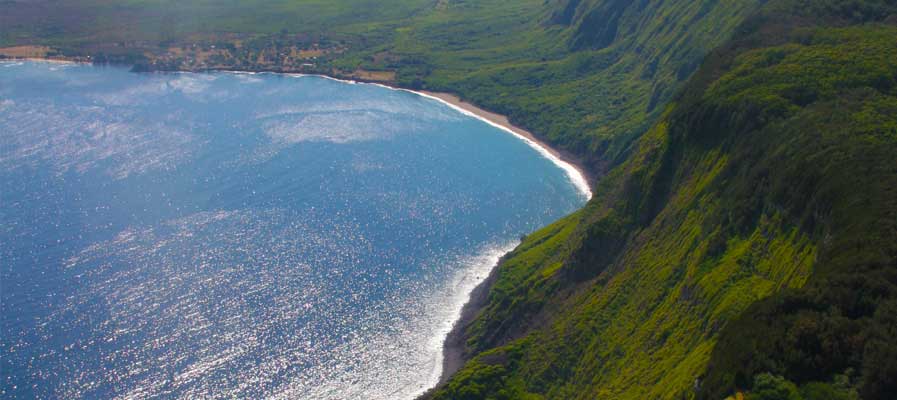 View Molokai Real Estate Property Listings
The most authentic Hawaiian experience this side of Hana, the island of Molokai, is Hawaii's fifth largest island, located just off the coast of West Maui. Only a short plane ride from Maui, Molokai has many great features, particularly for those whom love laid back living and unspoiled natural beauty.
Known as the "Friendly Isle" by locals, the first thing you notice upon landing on Molokai is indeed the friendliness of its residents. Intensely community focused, many of Molokai's residents are of Native Hawaiian descent, and related to each other in some way, strengthening their already strong bonds to the island and their neighbors; a quality which also extends to visitors and new residents alike. Along with fantastic company, Molokai also offers a smattering of beautiful locales throughout the island to experience. As the island is relatively small (ten miles across at its widest points, and thirty eight miles long) most everything may be reached quickly, provided you have a vehicle with all wheel drive. Some of Molokai's best attributes include:
Kaunakakai
Molokai's "city center," Kaunakakai is actually more akin to a quaint town mixing a bit of modernity with Old Hawaii values. Here you will find a number of small shops and boutiques, grocery and supply stores, and numerous delicious eateries. As with most things on Molokai, Kaunakakai is best explored in a relaxed state, so park your car and enjoy the sights as you stroll through town.
Kapuaiwa Coconut Grove
Notice all those coconut trees around the islands? Seeing a few growing along the roadside is typical in most places of Hawaii, seeing a grove of coconut trees however is a rare sight indeed. One such grove is alive and thriving at the Kapuaiwa Coconut Grove in Central Molokai. Planted in the mid-1800's, the Kapuaiwa Coconut Grove is actually very special as it is one of the last historic royal coconut groves planted for King Kamehameha V. Rows and rows of coconut trees are visible in the grove at any given place, and are a particularly enjoyable sight during sunset.
Papohaku Beach
Then take a trip over to Papohaku Beach on the West side of Molokai to enjoy one of the largest, and quietest, white sand beaches in the State of Hawaii. Known locally as "Three Mile Beach" for its 3 miles of soft white sand with a beach front more than 100 yards wide in some places, Papohaku is a fantastic place to enjoy the sand, sun, and surf, have a picnic, or even camp out for the night.
Halawa Valley
Towering waterfalls, lush vegetation, and amazingly beautiful vistas are just a few of the amazing things you will find at Halawa Valley. A 1/2 mile wide and around 4 miles deep, the lush Halawa Valley truly is a sight to behold when on Molokai. Said to have been an ancient Polynesian settlement stretching back to 650 AD, Halawa Valley has always been recognized as a place of retreat and refreshment, even by the ancient Hawaiians whom built a number of places of worship (heiaus) there hundreds of years ago. To fully experience the Valley and all of its natural beauty, you will want to hire a guide and take the moderate hike in on a calm, clear day.
These are just a few of the many qualities and experiences the wonderful island of Molokai has to offer; if you would like to experience this wonderfully laid back Hawaiian lifestyle full time, contact a Maui Luxury Real Estate Team Agent today!
Other Maui Real Estate Areas