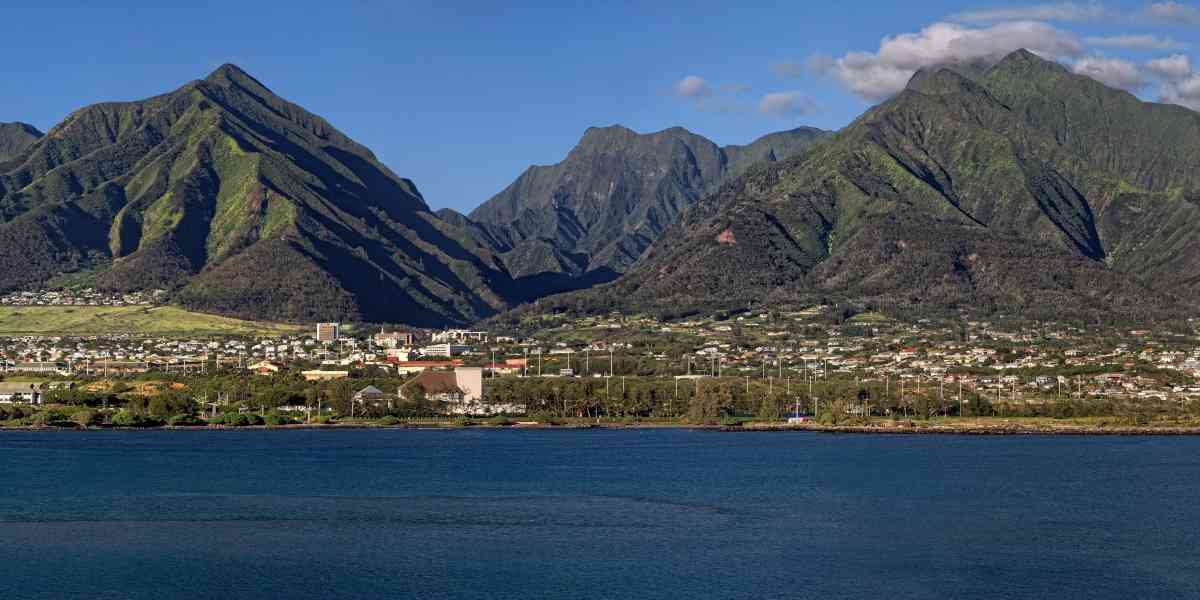 If you arrived here as many do; via private plane, commercial airline, or maybe even cruise ship, then you have already had your first experience with Central Maui. The industrial, commercial, and governmental hub of the island, Central Maui is the place to go if you're in search of "city life" on the island of Maui.
Comprised of the towns of Kahului and Wailuku, the Central plain is the place where the city meets paradise, yet those coming from a big city setting will recognize that even Kahului and Wailuku are much more "paradise" than they are "city."
View Central Maui Real Estate Property Listings
Kahului
Located just 30-45 minutes from most major Maui districts, the town of Kahului is where most Maui journeys begin. Home to the islands' only commercial airport and primary harbor, if you buy anything on the island, from food to fuel, it most likely arrived first in Kahului. As such, most of the islands' major retailers are located in Kahului; from big box stores such as Walmart and Costco, to supermarkets and car dealerships. If you're looking to purchase essentials for everyday life in Maui, you will likely find much of what you're searching for in Kahului.
It's not all about shopping however, as Kahului is also home to Maui's premier Arts and Cultural hub, the aptly named Maui Arts and Cultural Center. Host to world class entertainers and international fine artists alike, the "MACC" is the place to be when in search of a rocking night out live and in concert, a cultured day admiring fine art, or a family trip to the latest live action performance from your child's favorite Public Television heroes!
Wailuku
Minutes away from the MACC is the historic Wailuku Town district. Home to the offices of the County of Maui and various state and federal agencies, Wailuku is known for its eclectic mix of tall government buildings, essential services (including Maui's primary Police Station and full service hospital — Maui Memorial Hospital) quiet residential living, and well preserved bits of Old Hawaii all in one area. Here you will find the historic Main and Market streets; home to charming small businesses and pawn shops, as well as the original Maui Town Party celebration: First Friday in Wailuku, old school plantation style homes, and a bit of upscale living as you make your way farther "up the hill" into the Wailuku Heights area. As you progress into the hillside, turn off at Iao Valley Road to be suddenly transported to one of Maui's most famous landmarks: The Iao Needle.
Nestled between the lush green hillsides of the West Maui Mountains, the Iao Needle was once, as legend would have it, the backdrop to an epic battle which changed the course of ancient Hawaiian history. Today, the valley and the spire of Iao Needle provide residents and tourists alike with the opportunity to feel the spirit of Old Hawaii in one of the most serene, secluded, places in all of Maui. There are two parks at Iao, Upper and Lower; stop at either to hike about the valley, down upon the river which flows through it, or simply sit back and take in the serenity of one of the most sacred spots in all of Maui.
After a few hours of exploration, hunger will surely begin to set in. You will find no shortage of places to satisfy your cravings in Central Maui. With many local eateries dotting both towns, serving local favorites such as fresh Saimin, Loco Moco, Chicken Katsu, and the ever popular Teri Beef plate, if you're looking for a true taste of Hawaii, Central Maui is the place to be. If, instead, you're in the mood for something a bit quicker, there are also a number of fast food chains such as McDonalds, Jack in the Box, Burger King, Panda Express, etc. in the area and ready to serve you (many 24 hours a day.)
If you like the idea of "city life" in Maui, there are many affordable homes available in both Kahului and Wailuku.
Other Maui Real Estate Areas