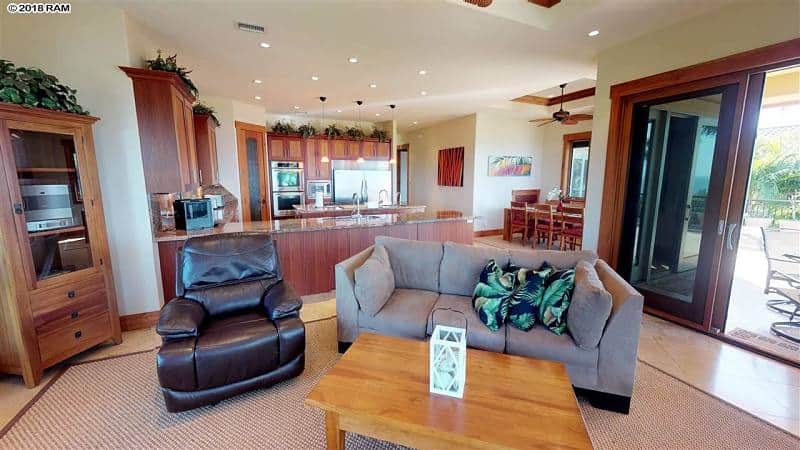 This Kaanapali Home Soars Above It All
Looking for a West Maui home that will take you away from it all? This luxury home for sale at 30 Lewa Lani Place in Lanikeha is perched on the lower slopes of Mauna Kahalawai in a quiet neighborhood in Kaanapali. It'll take you away from the hustle and bustle of the busier nearby areas, but you'll still be just a convenient five-minute drive from places like the famed Kaanapali Beach and the popular Whalers Village shopping center.
Learn more about: Kaanapali Home at 30 Lewa Lani Place
Stepping through the front doors of this beautiful 3 bed/3.5 bath home, what stands out is the quality of the design and materials that went into its construction. The doors, windows and kitchen cabinets feature a warm cherry wood trim. Conveniently for tall individuals, the ceilings soar at 10 feet, while doors stretch up to 8 feet in height. Pleasantly cool travertine flooring can be found throughout the main living areas, kitchen and entryway, while the bathrooms boast wonderful granite and glass features.
If you enjoy entertaining guests and making amazing food, you're sure to appreciate the kitchen. You'll find a Wolf gas cooktop and down draft, along with a double oven, a built-in microwave, dual sinks, two Fisher Paykel dishwasher drawers, a built-in wine fridge, and a walk-in pantry. The counter tops are granite, and the cooking island provides convenient extra counter space for preparing food. What couldn't you make in a kitchen so well equipped?
The home also boasts magnificent views of the ocean that you can either enjoy by looking out through the custom picture windows, or by stepping out onto the spacious sunning deck. The layout puts the main living area, master bedroom and second bedroom all on one level that features those amazing ocean views. On the lower level, you'll find the third bedroom guest suite and additional storage space.
The living area is an expansive 3,019 square feet, while the land area covers 10,951 square feet of space for you to enjoy. Another great feature is the full photovoltaic coverage that takes care of your minimum electric cost. Ownership within the gated Lanikeha community gets you access to the owners clubhouse, infinity edged pool and gymnasium.
Within the immediate area, you'll find all the charms of the Kaanapali resort, along with some of the finest beaches, restaurants, art galleries, activities, and shopping that can be found on the island. Just a short drive away are the many delights of Lahaina to the south, and Kapalua to the north.
If your interest is piqued, you can learn more about the home for sale at 30 Lewa Lani Place, or perhaps browse through the many other wonderful Kaanapali homes for sale. If you need our assistance or you have any questions you'd like to ask us, please feel free to contact us. We would be happy to put our expertise to work for you! Mahalo!