One of Maui's most stunning developments is underway in West Maui. It is called Lanikeha, meaning "legendary part of heaven". Lanikeha's 110 acres will overlook the magnificent Pacific Ocean.
Phase I, which consists of 67 parcels has sold out, but some of the 65 parcels of phase II are still available. They range from between 10,907 to 76,765 square feet. We have made the sitemaps available for your convenience. Some include tours of the area. You can also see our topographical map of the Lanikeha development as well as the project site plans.
The proposed Recreational Park Facility will be tropically landscaped and situated on over one and a half acres. One of the features will be a club house for the exclusive use of Lanikeha lot owners, occupants and their guests. The facility will boast a gracious welcoming lobby, an entertainment room with kitchen facilities and an inviting lounge to relax in, all surrounded by a grass courtyard. There will also be a separate pool and fitness pavilion.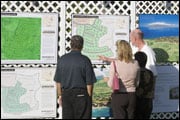 A large swimming pool with a hydro-spa and waterfall will overlook the famous Kaanapali Sunsets with vistas over the Kaanapali Resort, the Pacific Ocean and the islands of Lanai and Molokai.
Initial lot owners may be given the opportunity to participate in the Lanikeha Owners Program. After payment of applicable fees, these owners will have access to the Spa Moana at the Hyatt Regency Maui, the Kaanapali Golf Course and the Maui Arts and Cultural Center.
Explore the sitemaps we have made available for your convenience. Our online Lanikeha fact sheet may
help to answer any questions you may have about Lanikeha including information on zoning, amenities, total number of parcels, land area and more.
For the more visual among you, pictures of the Lanikeha development may best help you decide whether this is the location for you. For any further questions that you may have, please contact Whalers Realty at (800)367-5632 or email us at