If West Maui real estate is your primary interest, we can help. Last year, we at Whalers Realty Inc. handled 107 of the 518 total real estate transactions in the West Maui area. That's roughly 20% of transactions. If you're especially interested in Kaanapali real estate, which is located within the West Maui area, we should also note that we handled 56 of the 137 total transactions in that area. That's roughly 41% of transactions.
What is the real meaning of these statistics? Our prevalence in the West Maui real estate market has been hard earned over many dynamic decades. Throughout these years and to this very day, we are always adapting to ever-evolving market fluctuations, new technologies, and innovative tools that make your real estate search more and more convenient. We do all of this while maintaining our intimate knowledge of the West Maui area and its magnificent collection of homes, condos and undeveloped parcels of land.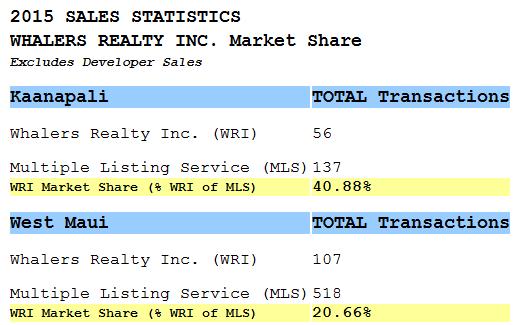 If you're not sure what firm you'd like to work with, keep in mind that specialists like ourselves know the ins and outs of our area to an extent that few others do. Each and every real estate market is full of its own unique nuances and trends, requiring expert guidance if your goal is to make the smartest and most satisfying decisions possible.
In short, there's a reason why so many buyers choose to work with us. Our commitment to excellence is one facet of the experience. Another is the simple fact that we love what we do, and we enjoy sharing in your fulfillment as you choose the slice of paradise that's just right for your tastes, your needs and your means. Can you blame us? We sell real estate in one of the most remarkable places in the world, characterized by rare natural beauty, rich cultural influences, and an economy driven primarily by enjoyment.
We hope that you won't hesitate to reach out if you have any questions about the real estate search and purchase process, or if you've decided to let us put our many years of experience to work for you. Should you need us, you'll find our contact information at the bottom of the page. Mahalo!