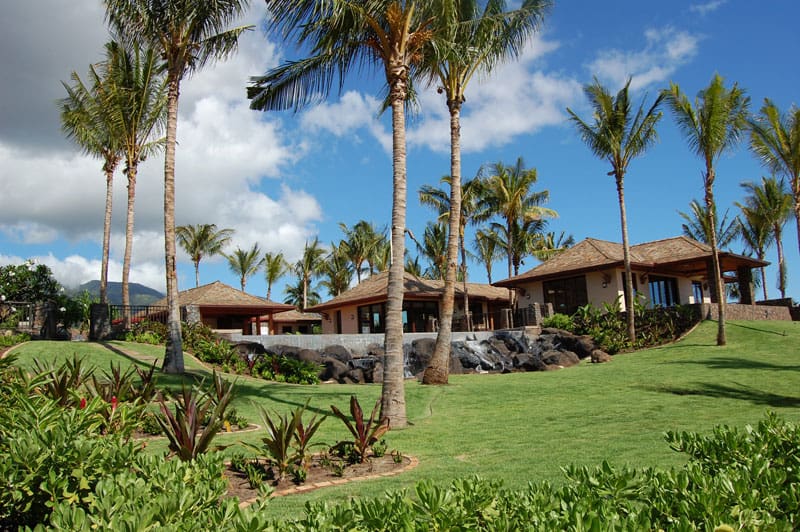 Are you looking for a solid luxury real estate property investment in Hawaii? Then we would like to draw your discerning eye to the residential real estate for sale in Lanikeha. Lanikeha means "Lofty Heaven" in Hawaiian and it's no wonder this area is named as such when you see it in person. It's a beautiful neighborhood in a private gated community that is both quiet, pristine and just so happens to overlook the Royal Kaanapali Golf Course.
This exclusive West Maui subdivision is located in the beautiful Kaanapali Golf Estates. At Lanikeha, you have the option to build your own dream home or you may decide to purchase some of the already-built homes inside. Whatever you choose, you can't go wrong as you will be a homeowner in a gorgeous neighborhood on Maui that gives you access to a state-of-the-art clubhouse.
The clubhouse was built on more than 1.5 acres of immaculately landscaped grounds with breathtaking views of Molokai and Lanai. Inside you'll find a spacious lobby, lounge, game room and a kitchen for large gatherings. When you step outside you'll be welcomed by a waterfall, a sparkling swimming pool and a hot tub. Lanikeha's clubhouse also comes with a state-of-the-art fitness center so you can keep your beach body in check!
Homes for Sale at Lanikeha
You'll find superbly built homes designed to maximize their individual locations views. Lots of custom additions and touches make them all very unique. From luxury 3 bedroom 3 bath homes to palatial 5 bedroom 4.5 bathroom multi-million dollar mansions. These Lanikeha homes for sale are a must see.
Check out our current Lanikeha webcam at one of our featured properties, 30 Lewa Lani, while it's still up for sale!
Lanikeha Vacant Land for Sale
Buying land for sale on Maui means that you can build your dream luxury home. Lots range in size from 9,000 square feet to more vacant land that is close to a full acre for the ultimate in privacy. As of the writing of this blog, there were 22 active vacant land property listings available all with various island and ocean views.
If you have any questions about this property, any other Kaanapali homes for sale or any of the many stunning luxury Maui real estate throughout our island paradise, then please contact us today. Our friendly staff is always here to help and we love serving our clients in any way we can. Whether you're looking to buy or looking to sell, we can help you with all your real estate needs on Maui.