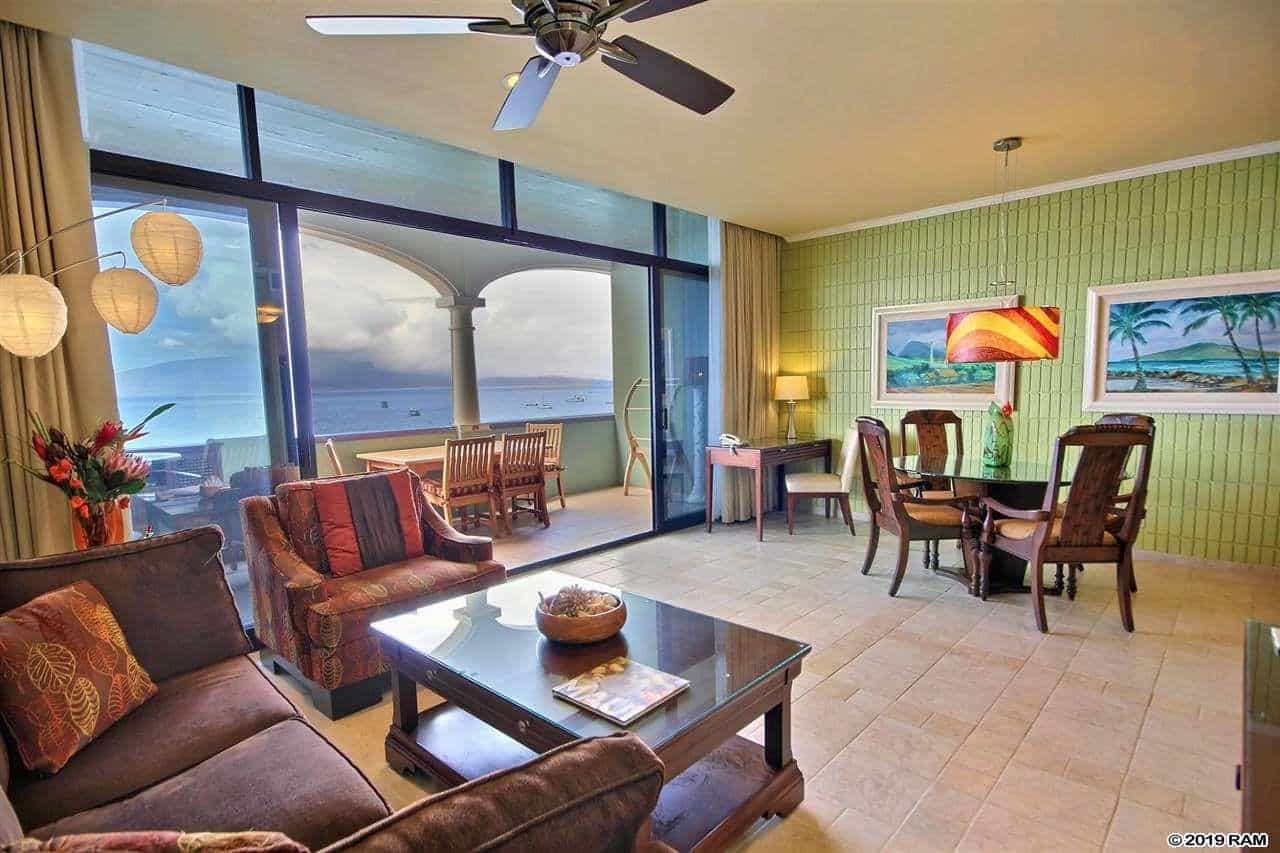 Located right on 475 Front Street in downtown Lahaina, this luxury West Maui condo for sale is relaxed, detailed, modern and is perfect for any person who enjoys the more beautiful things in life. This penthouse style, 1 bedroom / 2 bath condo real estate at the Lahaina Shores Resort is beachfront and gives you unmatchable views of the Pacific Ocean where you can soak in the sun and relax while you watch the sunset each night between Lanai and Molokai.
With a spacious living area encompassing 1,050 square feet, this luxury beachfront real estate has plenty to offer you and your loved ones. It's also close to the very popular Lahaina Harbor so you can spend your days watching surfers, sailboats, cruise ships and more come in and out of the water throughout the day. And let's not forget about whale season. During whale season, you can catch a glimpse of whales of all sizes jumping across the crystal blue water all from the comfort of your very own Lahaina luxury condo.
This particular beachfront penthouse was remodeled in 2010 with a new kitchen and bathrooms and had tile throughout the home to give the place a nice elegant feel. The house is currently being sold furnished, with the exception of certain artwork. Just imagine being able to come to Maui and settle into a nice home ready to welcome you!
View images & detailed info on this amazing
Lahaina real estate opportunity: 475 Front Street
Located in one of the most visited cities in all of Hawaii; Lahaina, Maui; this Westside town is home to historic Front Street that attracts crowds year in and year out for its plethora of things to do on Maui. From the culture to the food and to the aloha spirit that is felt by the warm smiles of people passing you by, it's a great place to visit and an even better place to call home. If being near all the action on Maui appeals to you then this is the Maui condo for sale is for you!
If you're interested in seeing this luxury beachfront condo in person or would like to see what other condos for sale in Lahaina are available, you can contact us or give us a call. As always, we're constantly looking for ways to serve you and help you find your dream luxury home on Maui so don't hesitate and please feel free to reach out with any questions you may have. Have a great week and don't work too hard! Aloha.