Nestled along the world famous Kaanapali Golf course is the quiet unassuming Maui Eldorado Resort. First impressions as you enter the property is that…. it's pretty quiet, it's comfortable, there's room to breathe.
There are familiar faces at the front desk as the staff are all long term employees, there is a concierge to assist with activities and a small cafe and the bell hop who will load your luggage in the golf cart and drive you to your condo. There are wonderful tropical flowers and meandering walking paths spread over ten acres that take you throughout the property, the buildings are only two stories high and the landscaping enhances every possible area. You should see the red torch ginger by the K building over fifteen feet high and in the winter months the two beautiful poinsettia trees that adorn the entrance to the F building will be in full bloom. The night blooming Jasmine by the J Building is intoxicating and in between there are some Banana trees, lemons and limes! There's not one, not two but three pools on property, one main pool and huge deck that will be enhanced with a Jacuzzi tub and covered pavilion starting this year and two other smaller pools with lounge chairs that provide ample space for those quiet times. Again the emphasis is how peaceful it is, no hustle and bustle, plenty of room to spread out and enjoy all that the property has to offer. If you do decide that you want more action, Whalers Village is a short walk down Kekaa Drive, with bars, restaurants, hotels and world class shopping.

One of the main attractions at the Maui Eldorado Resort is the private beach cabana for guests and owners. There is a full kitchen if you want to bring your lunch, a sunning deck with lounge chairs, a member of staff will provide beach towels and a dining area with tables and chairs. It's the coolest hangout on the best beach in Kaanapali. Awesome snorkeling at Black Rock, miles of beach to walk/run/swim/ SUP and just plain play all day. As an added convenience you can get a golf cart ride to and from the beach cabana.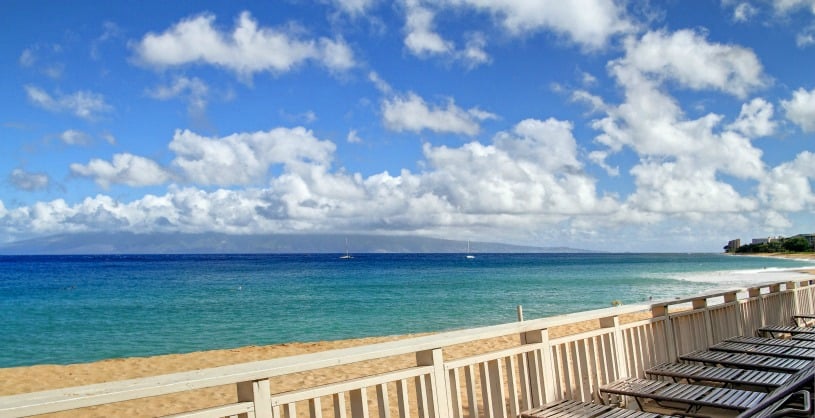 Another feature of the Maui Eldorado are the size of the living interiors, studio's averaging 570 sq ft, one bedrooms with either one or two bathrooms 960 sq ft and two bedrooms around 1440 sq ft. there's no doubt about it they are large in comparison to some other properties in the area. Each has a full kitchen, washer/dryer and a covered lanai area with a full table and chairs and even a chaise lounge chair to relax in. The property has central air and the maintenance fees include all utilities. In addition there is an apportionate leasehold rent as 90% of the land is held by the Ralph Hoyle Trust. Please call for more information. Studio's range between $199,000 LH to $229,00 LH and one bedrooms $250,000 LH to $399,500 LH and two bedrooms $498,000 LH to $699,000 LH.