The proposed West Maui Hospital and Medical Center recently received its Certificate of Need from Administrator Ronald Terry of the State Health Planning and Development Agency. This progress can be credited to the West Maui Improvement Foundation and various proponents of the hospital.
Almost 50,000 people can be found in West Maui on a daily basis. The nearest emergency hospital on Maui is 66 minutes away via a single, double-lane highway. If we can shorten the time it takes for victims of accidents, heart attacks and strokes to receive medical attention, survival rates will soar. This will be accomplished when the hospital is built.
There is still work to be done, however. About $4 million need to be raised through public donations in order to receive financing via a $36 million HUD loan.
Also, advocates must prove to the state of Hawaii that this second full service Maui hospital is financially viable and will meed Maui County's health care needs.
If you would like more information on how you can be involved, visit the West Maui Improvement Foundation website.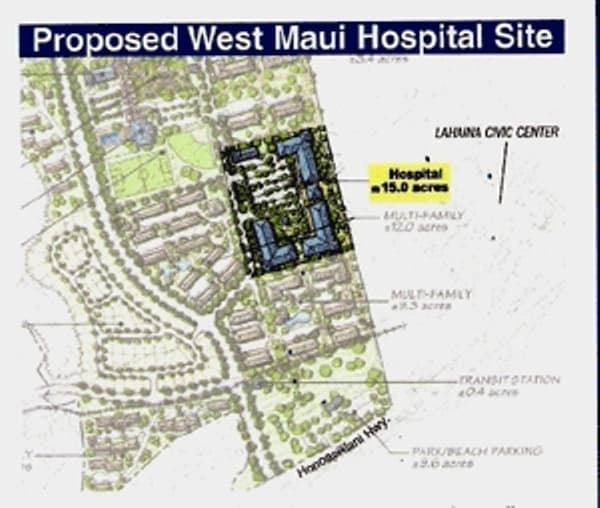 ---
Are you planning to move to Maui? Our friendly and experienced agents will help you find your Maui dream home. Browse our listings of Kaanapali condos, Lahaina homes, Kihei land, and any other neighborhood that interests you. Prefer more specific results? Try our search tool which allows you to narrow your results to your preferred criteria. If you need any help, just let us know. Contact us at or call (800) 367-5632.