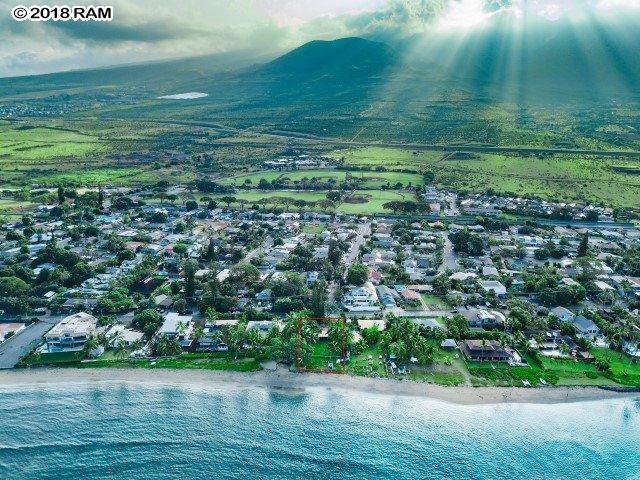 What makes a good home on Maui? Well, there are many factors but among the top are the location, the style, accessibility, amount of privacy and land and the uniqueness of the home itself. Well, right now there's a home for sale in Maui that includes all of these and so much more and that's this charming property for sale at 399 Front Street.
Situated at the end of Maui's historic Front Street in Lahaina, this three bedroom / three bathroom home has 94 linear feet of sandy beach frontage, a spacious yard that offers seclusion, palm trees, and an unmatchable view of sunsets on Maui. It's a largely level building site that has no shortage in terms of potential. With a beautiful yard with plenty of opportunity for immaculate landscaping and a view that you can't find anywhere else, you're going to love making this house into a home. The home has 2,116 square footage and a two-car carport, and is well priced at $4.5 million. Just imagine making this little piece of paradise into your island getaway! Can you picture it? Because we sure can.
If you're interested in viewing this home in person, then make sure to get in touch with one of our Luxury Property Specialists right away. Contact us and let us know how we can help you look at this lovely home today. If you're ready to see what else is out there for luxury properties on Maui then continue searching our website where you will find a lot of incredible listings. We represent luxury properties all over the island and you can get a better idea of what's out there under our luxury property listings. If it's oceanfront properties you're looking for then make sure to look at our oceanfront property listings and beachfront property listings. We have the best of the best in terms of real estate on Maui, so pour yourself a cup of coffee and get your notebook out and make sure to take some time to explore our luxury Maui real estate listings. We hope you enjoyed learning about this Front Street treasure and seeing what else is out there on Maui. If you have any questions then call us right away so we can help you make your dreams come true in Hawaii. Have a great week and we'll talk to you soon. Aloha and a hui hou!