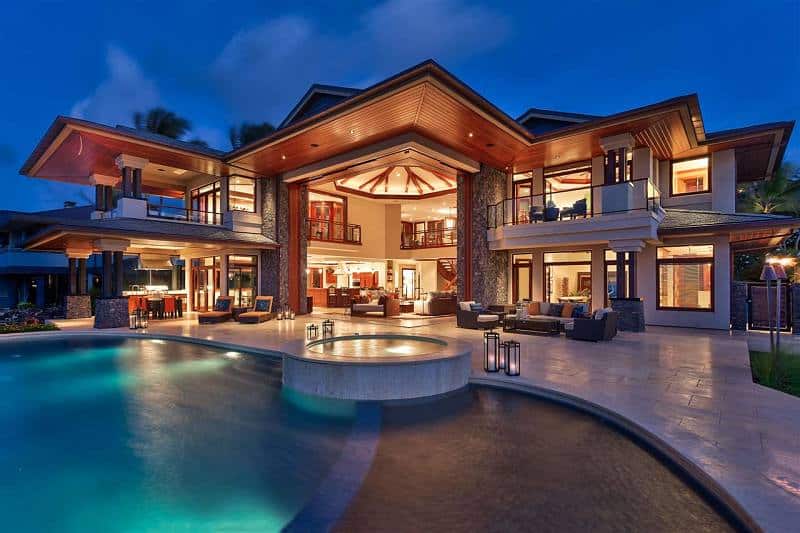 Summertime in Maui has arrived and what a beautiful time to be looking for your next luxury home in paradise. While the mango trees blossom and the never-ending list of fun-filled water activities expands here on the Valley Isle, it is time for you to set your sights on one of our favorite listings that is a dream home for any luxury estate buyer.
This Kapalua luxury beachfront home at 3 Kapalua Place is THE hottest luxury estate on the market this summer. Located a stone's-throw away from a beautiful Maui beach, this home is a true palace in paradise. Designed by award-winning Hawaii architect Jeffrey Long, this home aims to please. Jeffrey is known for his superior skill set and eco-driven designs and he went above and beyond with this more than 6,000 square foot property. Every inch of this home is impeccably created with amenities that you cannot find anywhere else.
This home comes fully-furnished with six spacious bedrooms, a granite tub that was hand-carved from a single block, Sapele Shaker cabinets and shutters, onyx and granite counters, a floating staircase, stacked Kapalua blue rock walls, and ipe wood and travertine floors that add prestige and elegance to this already lovely home. The property at 3 Kapalua Place also comes with a three-car garage and resides on 28,000 square feet of pristine beachfront land! Can you imagine?
The home also features 18 disappearing Sapele corner pocket doors which provide incredible views of Molokai at any time of the year and during winter months offers perfect whale watching views from the privacy of your living room. Imagine waking up every morning and seeing a mother whale and her baby calf breaching followed by a pod of dolphins. Sounds too good to be true? It's not. That's just life on Maui.
Another benefit of this special estate is its location. It's ideal for a getaway and is close to many activities, restaurants and adventure locations on Maui. It's 1 mile away from the popular Ritz-Carlton, Roy's Kaanapali eatery, Merriman's restaurant and more. It is only 10 miles from Front Street where you can catch jazz bands and shop on the shore of Lahaina.
If this property has piqued your interest then why not take a virtual tour of the property or contact us to see this beautiful home in person.
See what other Kapalua homes for sale or let our thoughtful and knowledgeable staff help you find your next luxury home in Maui today. Visit our office on Maui's west side or give us a call. See you soon. Aloha.