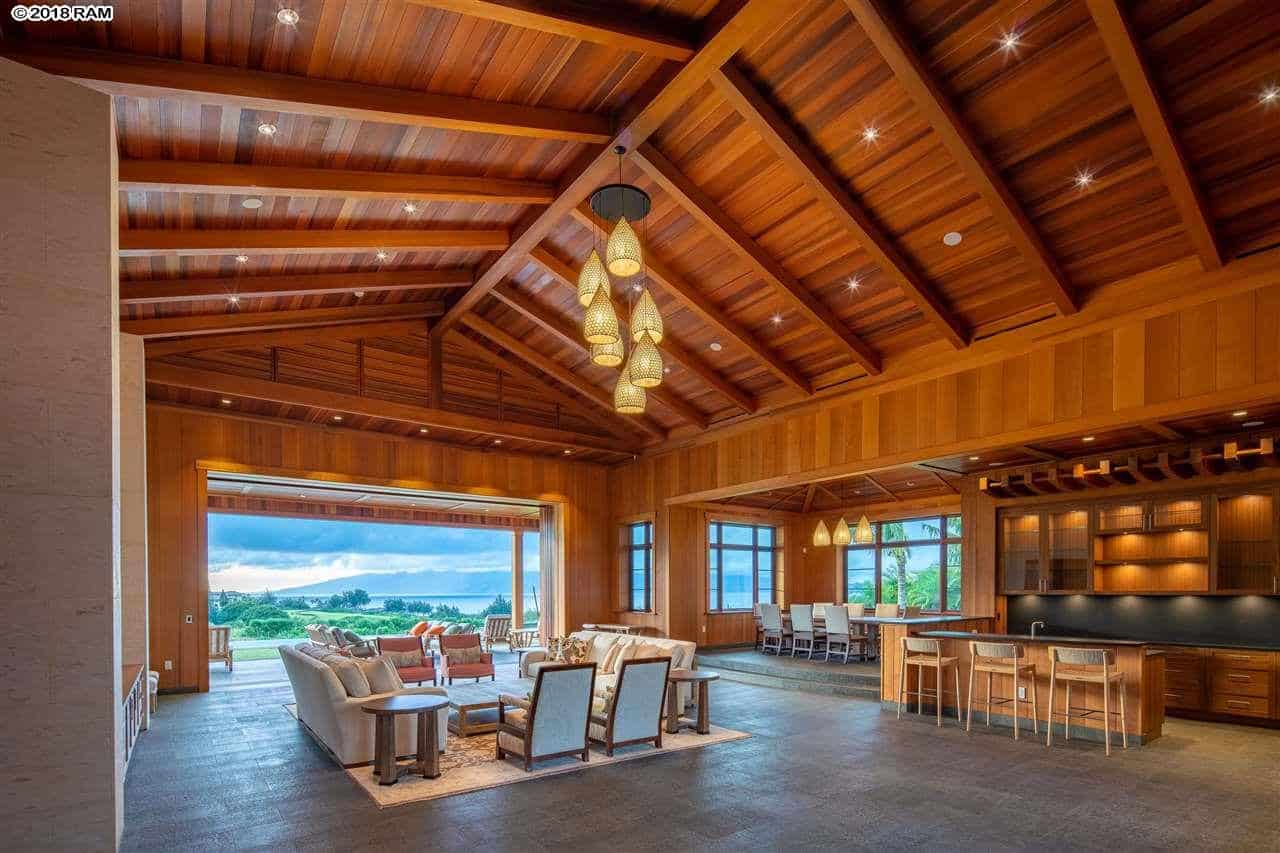 Luxury properties are a dime a dozen on Maui and if you're lucky you might just find the right one for you West Maui, Hawaii. From Lahaina to Kapalua, there are plenty of multi-million dollar luxury mansions for sale, both beachfront and oceanfront, that are incredible places to live and call home. But one property, in particular, that sticks out among the rest is a home located in Mahana Estates.
Mahana Estates Home for Sale
110 Hawane Loop
Mahana Estates happens to be Kapalua's newest luxury development that includes 51 estate lots with ocean and mountain views. This Hawaii luxury real estate is bordering the famous Plantation Golf Course, home of the PGA Tour season-opener Tournament of Champions, the views here are unmatchable and gorgeous. 4 bedrooms, 4.5 baths with a living area of 5,830 sq ft on over an acre of tropical land. Built with exotic woods including a vertical-grain cedar from Canada, White Oak floors and Teak cabinetry with the flamed & brushed black basalt tile, leathered and honed black granite, lava tile, and tiki torches, this house screams welcome to Hawaii!
The property itself is made up of 5,830 square feet on one acre and is oceanview with a two-car garage. You'll be one mile away from the Ritz-Carlton in Kapalua, Sansei Restaurant, Banyan Tree Restaurant and more. You'll also be a short drive from nearby locations such as Kaanapali, Lahaina and outdoor adventure spots such as Honolua Bay, Slaughterhouse Beach, Honokawai, and Black Rock. So much beauty and adventure surrounding this location that you'll be kicking yourself for not purchasing this property sooner. Make sure to take some time to look at the pictures and see for yourself what makes this property one-of-a-kind. If it's beauty, elegance, class, and style you're looking for you're going to be pleased with this Maui home for sale.
Kapalua Real Estate
110 Hawane Loop
We hope you consider looking into buying this Kapalua mansion for sale at 110 Hawane Loop. If you have any questions about this property or would like to see what is out there in terms of real estate on Maui, then make sure to contact us and reach out to one of our Maui luxury property realtors. Our agents are some of the hardest working, most knowledgeable and educated in real estate in the entire Hawaii Island chain. We love working with new clients such as yourself and hope to hear from you soon about any questions you might have about real estate in Hawaii. In the meantime, have a great work week and don't give up on your dream of becoming a luxury homeowner in Hawaii.