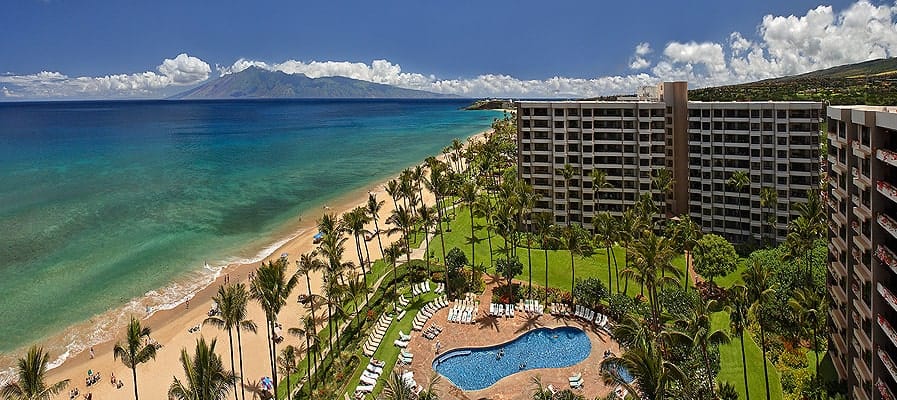 Here on Maui there are plenty of amazing parts of the island to explore. But we're here to tell you about a special place in West Maui that attracts numerous visitors each year to indulge in some real Maui fun and relaxation on one of the island's most beautiful beaches of all time!
At Kaanapali Beach, you'll be left breathless by the miles of white sand and bright blue ocean water that expands out into the horizon. In front of you'll witness sea turtles, waves, clouds, two islands of Molokai and Lanai and plenty of sunsets each night to enjoy. And while the landscape is truly picturesque, you'll also love all the fun activities that surround you here, including the nightly jump off Kaanapali's famous Black Rock destination (also known as Pu'u Keka'a). Ancient Hawaiians believed that lava formation that juts out into the crystal blue ocean waters was the place where their spirits went to jump off to join their beloved ancestors.
Enjoy life in Kaanapali at the Kaanapali Alii
Every day you will see children and adults alike facing their fears and jumping off the famous Black Rock and into the ocean below. So if you're an adrenaline junky and jumping high off a high sea cliff has always been on your bucket list, then you'll love the chance to do just that at Maui's Black Rock. Besides great cliff diving, the popular sandy beach below the lava promontory is also known for its snorkeling. Less experienced swimmers should beware that the water becomes deep quickly, and strong currents can occur in this location.
Wondering how high is Black Rock Maui? There are a few jump off spots ranging from about 12 feet to as high as 18 feet depending on the tide.
Where to park for Black Rock Maui? Head to the Sheraton, it's the last hotel located at the north end of Ka'anapali Parkway and is the closest to Black Rock. There is a public parking lot located there. Hang around for sunset on the beach or at the Cliff Dive Grill, where the Sheraton resort showcases a nightly torch lighting and iconic cliff dive ceremony, a tradition since they first opened in 1963.
Also nearby is Whalers Village. This one-of-a-kind village is the IT place to be on Maui's west side. Whether you're looking for shopping, dining, coffee, dessert or all of the above you'll find what you're looking for at Whalers Village. Home to high-end shops such as Louis Vuitton and Tommy Bahama, as well as other kinds of shops like Billabong, Crocs, Sephora, and more, you won't be disappointed by the various places to buy here. Also in this out-door mall area are restaurants such as the Hula Grill, Monkeypod, and Leilani's. Each of these restaurants offers tasty food options for people just like you.
Homes for sale in Kaanapali and beyond! Discover Maui Beachfront Luxury Real Estate
It's having access to a beautiful beach, great outdoor activities, plenty of shopping and food choices that make it worth looking into buying real estate in West Maui. So if you're interested in seeing what's for sale in this part of the island, then make sure to look at our real estate options and contact us when you see one. And in the meantime, why not do yourself a favor and look at the real estate options in this area. We have everything from oceanfront properties to beachfront homes for sale nearby so there's plenty of options for you to choose from. We hope you enjoyed learning about this special part of Maui and let us help you find your dream multi-million dollar property here today. Aloha!