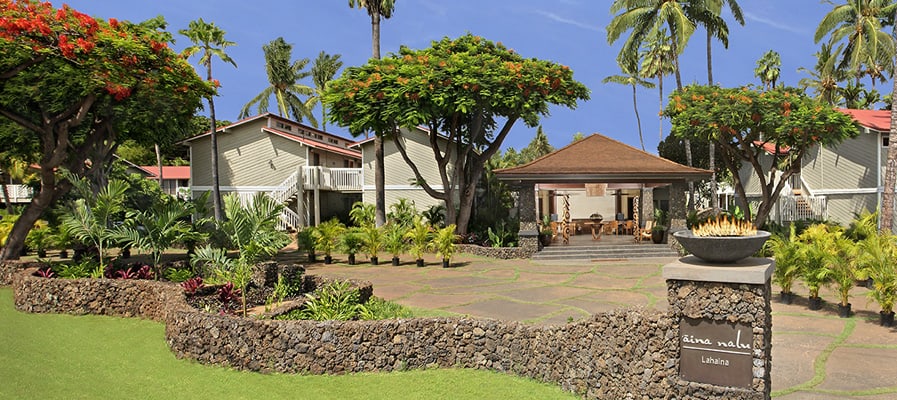 2019 Maintenance Fees
| Unit Type | Square Footage | Maintenance Fees |
| --- | --- | --- |
| G Studio | 252 | $220.08 |
| F 1/1 | 515 | $449.77 |
| E 2/1 | 772 | $674.22 |
| C&D 2/2 | 832 | $726.63 |
| A&B 2/2 | 846 | $738.85 |
| Cottage | 846 | $2,015.69 |
aina nalu® Condos For Sale
aina nalu® is a condominium property managed by Outrigger Hotels & Resorts. It is located in the heart of Lahaina Town within the Natural Historic District of 19th century Lahaina. You will feel transported back in time at aina nalu. The stately architecture and nine-acre grounds make this such a special property. These newly remodeled condos offer sophisticated design. aina nalu's boutique residential condos for sale are an exceptional ownership opportunity on Maui. Begin your journey into Maui's past and present at aina nalu.
Lahaina Property
aina nalu real estate includes stunning studios and one and two bedroom condos that range in size from 252 sq. ft. to 876 sq. ft. Each condo is designed with a mix of Hawaiian plantation and modern styles colliding to make beautiful residences. The studio condos contain microwaves and under-counter refrigerators. The one and two bedroom units have full kitchens with all the expected necessities. The units are well-appointed and invite you to personalize them even further with your own unique style.
The 190 condo units range in size:
8, Studio, 252 sq. ft.
29, 1 bedroom, 1 bath, 515-535 sq. ft.
12, 2 bedroom, 1 bath, 772 sq. ft.
141, 2 bedroom, 2 bath, 832-876 sq. ft.
The property is well-landscaped and ornamented with lush garden features. There are two un-crowded swimming pools and a whirlpool hot tub for residents to enjoy. Other amenities include an on-site activities desk, a lounge, and free Wi-Fi in public spaces. Life's a breeze at aina nalu with all the conveniences you will need at hand.
Lahaina Town Location & Amenities
Lahaina was once the capital of the Hawaiian Kingdom and was a busy whaling port in the 19th century. Nowadays, Lahaina is a colorful center of tourism and commerce with elegant shopping and dining. aina nalu is just a short walk from the bustling front street and Lahaina's historic harbor. From the harbor, many different boating and activities excursions depart. Front street houses many different vendors providing plentiful shopping opportunities. And for a night out, Lahaina also has a myriad of different dining options to choose from. One of the many perks of living in Lahaina town are the many free events which include Lahaina's town party and many different musical events. Just two blocks away, you will find yourself at a sandy beach in the middle of town. A renowned beginner surf break called 'Breakwall' is also very close if you are looking to sharpen your surfing abilities.
Real Estate Property Investment
Owning at one of only a few condo communities in historic Lahaina town has many perks including the unbeatable location. With flexible ownership options, aina nalu has a mix of full-time residents, second homeowners, and vacation rentals. aina nalu is a reputable and licensed vacation rental property which provides owners with income, if they choose, making this investment even sweeter. Contact us today to get more information on buying a condo in Lahaina Town!